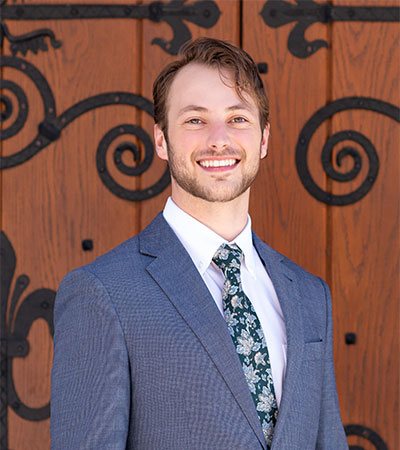 Mikey was born and raised here in this beautiful city. During his college years he left to explore the rest of the state doing 3 years in Greeley, Colorado and 2 years in Boulder, and finally after graduating with a degree in pre-health, he found a job as a Medical Assistant in Denver. Pikes Peak never stopped beckoning him home and he returned after 6 long years to enjoy the place in which he was brought up. This town is what Mikey knows best. The people hang heavy in his heart. The places breathe nostalgia into his soul and the mountains humble him. This town is his area of expertise and he would love to share that sprawling network with you.

The MacGuire team made buying our home while out of state nearly effortless. Mike, Missy, and Mikey are kind and professional. The team answered all of our questions while looking for and buying a home, in addition to recommendations on services in the community. The MacGuire Team is exceptional. I highly recommend this group.
Katie Bennion
First class treatment by highly experienced real estate team. Great communication and takes the time to explain every step of the way. Mike has been in the business for decades and knows the ups and downs and how to navigate them to get the right outcome.
Justin Bull
I've never worked with a better Realtor! So grateful for Mike, Missy, and Mikey that helped us sell our home in Colorado Springs! Mike and his team really go above and beyond and care about you as a person. Their personal touch is felt! Thank you again!
Steve Washenko
"Team Macguire (Mike, Missy and team) has the breadth of experience, the local insight, and the professional skills that other teams only dream of. I was buying a home to relocate from out of state. Mike communicated so well from a distance that by the time I visited homes with him in person I felt like he was already dialing into what my family needed. We had many constraints on location with schools, my commute to work, size of our family etc. Mike was able to show me the types of homes and neighborhoods that I expected and was able to introduce other options that I would not have been aware of from a distance. Walking through homes with Mike was 2nd only to walking through the home with the builder themselves. He knew the ins and outs, who constructed what, which windows were from the Northeast and had a reputation of weather adjustment (or lack thereof). He knew which areas had soil settling issues and which plumbing companies used materials that required major overhauls. After two trips in person and very informative house hunts led by Mike, I was comfortable enough to buy the home from out of state. Mike and Missy were detail oriented and advocated for us professionally. I will only do business with their team in Colorado Springs."
Nathan Bennion
We have worked with Mike and his team for 3 different transactions now, and I could not be happier with his services. His team is always professional and extremely knowledgable about the current market. He priced our home exactly how it needed to be priced and set realistic expectations for us in this crazy and ever changing market. I have bought two houses with Mike, and I was so thankful to have him and his team advising me along the way. We sold a house with him as well and The MacGuire team made that process so easy and as stress free as possible for us. All of the companies he recommended to help us get our house show ready were just as professional and knowledgable as he is. I would not ask anyone else for real estate needs besides The MacGuire Team!
Morgan Scully
Mike, Missy and their team are 1st class all the way. They helped us with an estate sale from out of state and they made everything so simple for my family. Their attention to detail and all the personal touches was exactly what we needed. They are fabulous and I recommend them wholeheartedly to anyone. Thanks for everything!!
Shannon O'Brien